I have never quite seen Ciaran or Cormac in such a bad state. Colin is sick but not quite as bad. I swear their brains are running out their noses. I don't even know what to do for them. Here is Ciaran today. How sad does he look? All that mess on his face? No, it's not food, it's boogers!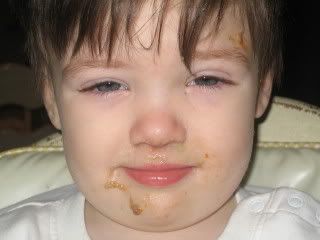 And for some reason Ciaran does not want his clothes on. But those who know him well know he will not take his shoes and socks off. So, this is the look for today. At least I had something to chuckle about.
Doesn't he look like a future supermodel???
Cormac on the other hand is starting to resemble Art Garfunkel!! Art Garfunkel is great and all but no one wants his hair! I LOVE his blonde curls but when left on it's own. Well, a picture says a thousand words...