It's been over a week since I updated the blog. Where do I start? We went to a Superbowl party and it was a blast. The boys had such a great time. We got them home early enough so Frank and I could watch the second half while they were asleep. What an amazing football game. Probably one of the best games I have ever seen to date. We aren't even Giant fans but we were so happy they won. Because, no one likes the Patriots!
Tommy and Juanita surprised us and brought Corinne to visit from Texas. We were finally able to meet her. She is such a cutie. I am so sad they went back to Texas. They have only been in Texas a short time but Corinne already has cowboy boots!
Here she is: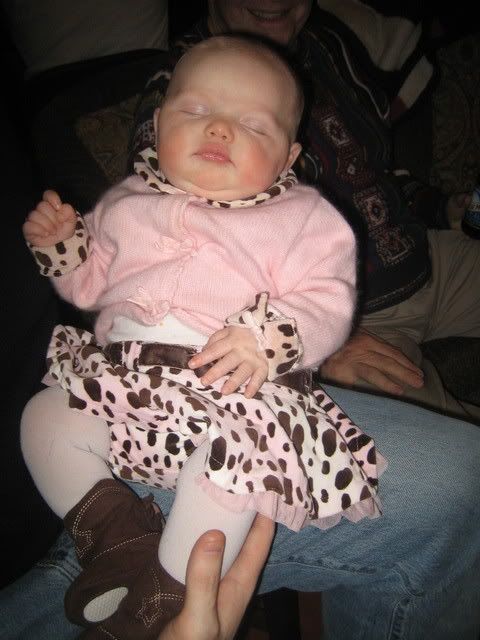 The boys were starting to look like girls so we went for some hair cuts. I think this is Ciaran and Colin's 3rd or 4th haircut. This is pure torture for these children. You would think we were cutting off a limb. Ciaran was much better and stopped crying midway through. Colin, on the other hand, freaked during the entire haircut. It takes two people to keep him still. This is not an enjoyable experience. As soon as they are done they are fine and smiling and laughing.
Cormac has never had a haircut. How could I cut those blonde curls?? Well, he has a new habit of playing with his hair and started looking kind of crazy so I cut his hair. I felt so bad but it had to be done. When Ciaran and Colin got their first haircut we took a video and pictures. It was a big deal. I decided at the last minute to cut Cormac's hair so all I have is a picture from my mom's cell phone. Cormac never cried. Sat their in the little car and smiled and played. He is so different than Ciaran and Colin. Here is the picture of him after his haircut. It's a little blurry since it was taken with a phone. He looks like a big boy now.
Just to show you the difference. Here are Ciaran and Colin at their last haircut.
The boys got these really cute track suits from Nadine for Christmas. I think they are the most adorable things ever! I think they look like little mini mobsters but you all know I grew up in Belleville.
The whole gang